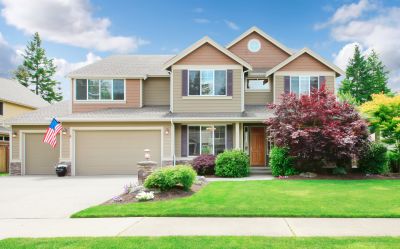 Ask any Seattle siding contractor about the important factors to consider when choosing a type of exterior panel: they'll likely list climate as one of the top contenders.
So what does that mean for local homeowners looking to shield their houses from Washington State's shifting weather patterns?
Keep reading for the top two recommendations from a leading Seattle siding company.v
Seattle's Major Weather Patterns
When it's time to repair or remodel your home's exterior, your Seattle siding contractor will advise you of two key climate considerations in our area: precipitation and temperature.
Seattle has a temperate climate, and we don't see as many extreme weather patterns as some other parts of the country. However, experienced siding contractors in Seattle will tell you that the near-constant drizzle that moistens our city from October to March can wreak havoc on building materials that aren't highly water-resistant.
For this reason, most siding companies in Seattle recommend steering clear of untreated wood paneling.
If you notice unusually high utility bills in the winter and summer, most siding contractors in Seattle will advise you to look to your home's exterior to find the culprit. Materials that aren't well-insulated do a poor job regulating your home's internal temperature – which is a problem in zones like ours with distinct seasons. 
While it doesn't get extremely hot or cold here, homeowners still need to rely on their heating and cooling systems throughout the year to maintain a comfortable temperature indoors. That means your home's exterior needs a casing that keeps the outdoor air at bay, allowing your HVAC system to function at its optimal performance level.
As a top siding company in Seattle, here are our go-to options for local homeowners looking to remodel their homes' exteriors.
1. James Hardie Fiber Cement
Most of the best siding companies in Seattle endorse fiber cement siding from James Hardie. Once properly treated with waterproof paint, fiber cement can withstand just about anything the elements throw at it – including heat, cold, and constant rain. 
James Hardie's products are sustainably made and extremely durable, lasting well over 50 years with regular maintenance. Fiber cement panels are very heavy and require expert installation, so be sure to hire a reputable siding company in Seattle for the job.
Think of insulated vinyl as a souped-up version of regular vinyl. It has a lot of the same perks – durability, versatility, and affordability, for instance – but comes with a foam backing that dramatically improves your home's ability to thermoregulate.
Insulated vinyl comes in a wide variety of colors and textures. Once installed, it's very low-maintenance and will require little upkeep from you or your Seattle siding contractor.
When it's time to renovate, choosing the right contractor is the most important step. Look for a top Seattle siding company that works with both fiber cement and insulated vinyl to ensure your home's new exterior can withstand anything our city's weather throws its way.