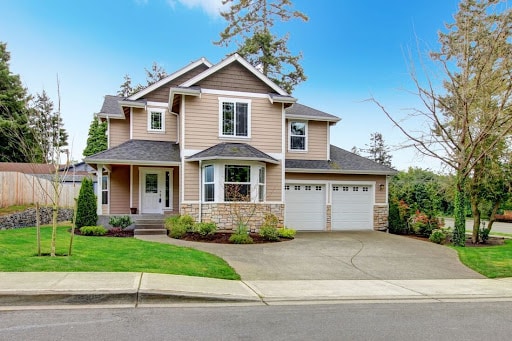 Choose the right siding for your building by looking for a material that matches your home's style, how much you are able to dedicate to maintaining it, and the climate where you live.
Our siding contractors in Bellevue are on hand to share some top tips!
A good place to look for ideas for keywords and different looks is on creator boards like Pinterest.
For example, search for natural looks like wood or fiber cement to match organic surroundings. Fiber cement comes in a fantastic variety of styles and can suit any home!
Colors and Texture Details
Nearly every type of material comes in a large range of colors and various textures, further categorized by light, neutral, dark, or vibrant, muted, bold. Use these keywords to ask or search for the look and feel you have in mind. 
Your home siding contractor in Bellevue, WA. will recommend starting with a primary color for the siding may add secondary colors for accents.
You don't need to compromise on aesthetics to get high-quality siding! Vinyl and fiber cement are both cost-effective options that come in numerous gorgeous styles.
Most materials are easy to give a light cleaning, but some require specialized experience to maintain. Ask your contractor for tips on keeping your home's exterior in great condition.
Extreme heat or cold, drastic temperature changes and harsh weather like fires and heavy ice and snow can restrict the options for a home.
For example, steel stands up well in freezing temperatures, whereas vinyl may warp when the temperature drops below freezing, or there is a drastic change in temperature. 
Install By Yourself or Call a Home Siding Contractor in Bellevue?
Siding DIY is possible – but not recommended. A Bellevue siding contractor brings years of experience and professional-level equipment, and your home is under warranty if the job isn't completed properly.
A good home siding contractor in Bellevue, WA, will also complete the installation far more quickly than you could do a DIY job. This is important because the longer the job takes, the greater the risk that dampor pests find their way into your home. 
Sourcing materials is another advantage of working with professionals. Top contractors can get excellent rates on industry-leading products like Hardiplank fiber cement siding – you'll pay extra for the cost of shipping materials in a DIY project.
The upshot is that while DIY projects are an enjoyable challenge, major renovations are best left to professionals with years of experience.
How to Choose Good Siding Contractors in Bellevue: Final Thoughts
Some final steps to follow to choose a good Bellevue siding contractor for your home are to:
Check the company's recognition on the Better Business Bureau website
Ask for referrals from people who've had good experiences
Get several bids to find out what your budget range should be
Look at portfolios with pictures
Request a formal estimate before you decide
Double-check for the right permits and payment plans they might have to offer you
You're guaranteed first-class results when you work with a leading siding contractor in Bellevue!